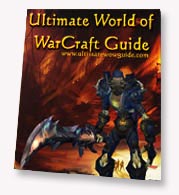 The Fastest & Easiest World of Warcraft Leveling Guide
The Ultimate World of Warcraft Guide stands head and shoulders above all other Guides for Warcraft. It is highly recommended because this guide has something for everyone, no matter what your position or skill level in playing this game. It contains both the Horde and Alliance Faction tips for leveling your character in a fastest and easiest way. Not only that, it teaches every players how to make 200 plus gold per hour. Amazing isn't it?
It also contains a professions guide, beginners guide, class/gear guide, macro guide and many more that will give a great boost to your quest in the World of Warcraft. Above all this, it is a guide that is thoroughly updated on a regular basis to sync with the changes that occur all the time in the World of Warcraft.
Read our full review here, or visit the Official Ultimate WoW Guide site >>

World Of Warcraft Fishing Guide
This Fishing guide is very helpful for you as World of Warcraft user on how to level up your character in a much faster way. Every detail of this article is considered to be very important. Not all things are placed to this guide because some of the topics are not that important and a waste of time to discuss.
Not only this article would discuss about fishing strategies, it also includes cooking as well because mostly they compliment each other and work on it both each other at the same time to increase levelling up your skills. It takes you about 15 hours to complete this guide or it may be less if you are a fast learner.
Most of the questions come like this, "What causes your skill rate to change?" In fishing, your skill rate goes up based on the number of successful catches that the player has made. To understand it in some other way, an equation like this (current unmodified fishing level - 25) / 25 = # of fish needed to level, assuming a minimum of fish per catch). Location where you do fishing doesn't do anything in helping you increase your level. It's just a matter of number of catches that you made successfully.
In Horde Instructions, begin your journey at the Bloodhoof village in Mulgore. Purchase Billiant Smallfish and Longjaw Mud Snapper recipes; try to speak to Harn longcast. Begin fishing at Stonebull lake. Equip your rod that will be use for fishing. Apply shiny bauble lure to make fishing a lot easier. After fishing about 40 minutes, better sure to catch 60 brilliant smallfish and 30 Longjaw Mud Snappers. If you caught 60 of this kind, your next thing to do is to cook it. Go back to Harn Longcast to use the fire or perhaps create a fire on your own. Cook also the brilliant smallfish that you caught. Begin cooking Longjaw mud Snappers when you are at level 50. In the Pond of Orgrimmar, catch Longjaw Mud Snappers. Stay in that location as much many time because the drop rate is far more better. Between level 50 and 70 learn journeyman cooking and fishing. To raise your cooking ability up to 100, it is required to catch at least 30 Longjaw mud Snappers. Proceed to Tarren Mill in Hillsbrad to see Derak Nightfall to purchase Bristle Whisker Catfish recipe. With this, it requore you about 80 to 100 of these to get your cooking level up to 175. Go to Shadowprey village in Desolace to purchase Expert Cookbook when you are between 125 and 150. Go to Booty Bay to buy a book for your fighing level. Talk to an old man heming to purchase his Expert fishing book. When reaching a level of 175 in cooking, go to Shadowprey Village and speak to Wulan to purchase Mithril Head trout recipe and begin fishing at the pier of the said area. To gain a level of 225 you must acquire about 60 of these.
By following those tips above, you have levelled up your fishing and cooking skills to 225. This is as far as you can go if you are below level 35. But above 35, you will have 2 quests to complete before continiuing the journey. The first quest that you will have is on cooking and the second one will be all for fishing.
Compensation Disclosure: The owner of this site is an affiliate of some or all products on this site